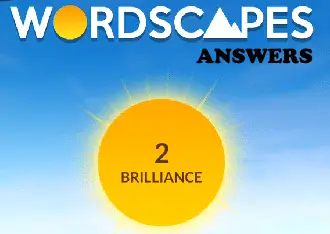 Welcome to Wordscapes Answers!
Wordscapes game is a beautiful word teaser game from PeopleFun Inc.. The unique idea of this word puzzle game is based on the crossword type of puzzle with beautiful nature landscape backgrounds.
Is it free game?
Yes, Wordscapes is FREE. The Wordscapes game is not heavy loaded with ads. The Wordscapes is available for Android and iOS devices.
Download Wordscapes for Android
Wordscapes – PeopleFun, Inc. for iOS
If you have a Windows phone OS, unfortunately there is no version for Windows phone users.
How to play Wordscapes?
Solving the crossword puzzle is the main idea. By doing it, you will collect coins that can be used for hints when levels are getting harder.
You may collect more pints by watching commercial videos or by inviting your friend or simple by purchasing them. Also, Wordscapes game offers daily challenges that will give more chances to earn coins.
In case you are stuck and are looking for help and no coins left, you may use Wordscapes Answers here.
The Wordscapes answers are categorized as shown below. Simply click on any of the category that you need. The answers are supported by walkthrough videos.
Wordscapes Answers
Wordscapes Daily Puzzle Answers
Sunrise
Wordscapes Rise answers
Wordscapes Grow answers
Wordscapes Shine answers
Forest
Wordscapes Pine answers
Wordscapes Dew answers
Wordscapes Flow answers
Wordscapes Fog answers
Wordscapes Life answers
Canyon
Wordscapes Ravine answers
Wordscapes Pass answers
Wordscapes Arch answers
Wordscapes Cliff answers
Wordscapes Pillar answers
Sky
Wordscapes Wind answers
Wordscapes Rays answers
Wordscapes Dusk answers
Wordscapes Cloud answers
Wordscapes Sun Answers
Tropic
Wordscapes Shore answers
Wordscapes Frond answers
Wordscapes Palm answers
Wordscapes Beach answers
Wordscapes Coast Answers
Mountain
Wordscapes Crest answers
Wordscapes Fjord answers
Wordscapes Climb answers
Wordscapes Scale answers
Wordscapes Peak Answers
Winter
Wordscapes Chill answers
Wordscapes Bite answers
Wordscapes Flake answers
Wordscapes White answers
Wordscapes Frost Answers
Flora
Wordscapes Petal answers
Wordscapes Lily answers
Wordscapes Bloom answers
Wordscapes Field answers
Wordscapes Seed Answers
Autumn
Wordscapes Fall answers
Wordscapes Bark answers
Wordscapes Red answers
Wordscapes Vivid answers
Wordscapes Cover Answers
Jungle
Wordscapes Vine answers
Wordscapes Thick answers
Wordscapes Wild answers
Wordscapes Lush answers
Wordscapes Green Answers
Desert
Wordscapes Spire answers
Wordscapes Rock answers
Wordscapes Sierra answers
Wordscapes Dune answers
Wordscapes Sand Answers
Ocean
Wordscapes Vast answers
Wordscapes Wave answers
Wordscapes Storm answers
Wordscapes Blue answers
Wordscapes Depth answers
Field
Wordscapes Sail answers
Wordscapes Haze answers
Wordscapes Soar answers
Wordscapes Wind answers
Wordscapes Amber answers
Lake
Wordscapes Calm answers
Wordscapes Set answers
Wordscapes Serene answers
Wordscapes Air answers
Wordscapes Grace answers
Vista
Wordscapes Climb answers
Wordscapes Above answers
Wordscapes Fall answers
Wordscapes Below answers
Wordscapes Arrive answers
Cliff
Wordscapes Mist answers
Wordscapes Bright answers
Wordscapes Dawn answers
Wordscapes Brood answers
Wordscapes View answers
Beach
Wordscapes Fresh answers
Wordscapes Shell answers
Wordscapes Wash answers
Wordscapes Aqua answers
Wordscapes Pebble answers
Fog
Wordscapes Wood answers
Wordscapes Valley answers
Wordscapes Lake answers
Wordscapes Range answers
Wordscapes River answers
Celestial
Wordscapes Cosmo answers
Wordscapes Luna answers
Wordscapes Strato answers
Wordscapes Polar answers
Wordscapes Solis answers
Woodland
Wordscapes Ray answers
Wordscapes Azure answers
Wordscapes Toad answers
Wordscapes Brook answers
Wordscapes Leaf answers
Outback
Wordscapes Flatt answers
Wordscapes Erode answers
Wordscapes Arid answers
Wordscapes Lime answers
Wordscapes Arch answers
Frost
Wordscapes White answers
Wordscapes Valley answers
Wordscapes Lake answers
Wordscapes Icey answers
Wordscapes Shine answers
Timberland
Wordscapes Mist answers
Wordscapes Bright answers
Wordscapes Dawn answers
Wordscapes Brood answers
Wordscapes View answers
Hills
Wordscapes Climb answers
Wordscapes Above answers
Wordscapes Fall answers
Wordscapes Below answers
Wordscapes Arrive answers
Mist
Wordscapes Ray answers
Wordscapes Azure answers
Wordscapes Toad answers
Wordscapes Brook answers
Wordscapes Leaf answers
Formation
Wordscapes Calm answers
Wordscapes Set answers
Wordscapes Serene answers
Wordscapes Air answers
Wordscapes Grace answers
Coast
Wordscapes Fresh answers
Wordscapes Shell answers
Wordscapes Wash answers
Wordscapes Aqua answers
Wordscapes Pebble answers
Twilight
Wordscapes Mist answers
Wordscapes Bright answers
Wordscapes Dawn answers
Wordscapes Brood answers
Wordscapes View answers
Marsh
Wordscapes Fall answers
Wordscapes Bark answers
Wordscapes Red answers
Wordscapes Vivid answers
Wordscapes Cover answers
Woods
Wordscapes Fir answers
Wordscapes Leaf answers
Wordscapes Fall answers
Wordscapes Mossy answers
Wordscapes Bright answers
Arid
Wordscapes Rise answers
Wordscapes Sand answers
Wordscapes Dawn answers
Wordscapes Drift answers
Wordscapes Dry answers
Tide
Wordscapes Ripple answers
Wordscapes Wave answers
Wordscapes Calm answers
Wordscapes Breeze answers
Wordscapes Float answers
Passage
Wordscapes River answers
Wordscapes Curve answers
Wordscapes Hole answers
Wordscapes Mist answers
Wordscapes Spire answers
Air
Wordscapes Valley answers
Wordscapes Sky answers
Wordscapes Lake answers
Wordscapes Vast answers
Wordscapes Shore answers
Lagoon
Wordscapes Palm answers
Wordscapes Beach answers
Wordscapes Clear answers
Wordscapes Star answers
Wordscapes Dusk answers
Peak
Wordscapes Valley answers
Wordscapes Up answers
Wordscapes Height answers
Wordscapes Peace answers
Wordscapes Crest answers
Ice
Wordscapes Frost answers
Wordscapes Freeze answers
Wordscapes Light answers
Wordscapes Melt answers
Wordscapes Snow answers
Bloom
Wordscapes Mist answers
Wordscapes Pond answers
Wordscapes Shine answers
Wordscapes Grass answers
Wordscapes Frond answers
Fall
Wordscapes Fog answers
Wordscapes Birch answers
Wordscapes Ruby answers
Wordscapes Oak answers
Wordscapes Grove answers
Rain Forest
Wordscapes Green answers
Wordscapes Grow answers
Wordscapes Curl answers
Wordscapes Frond answers
Wordscapes Lush answers
Rows
Wordscapes Field answers
Wordscapes Lines answers
Wordscapes Far answers
Wordscapes Grain answers
Wordscapes Seed answers
Basin
Wordscapes Chill answers
Wordscapes Slope answers
Wordscapes Rock answers
Wordscapes Cove answers
Wordscapes Marsh answers
View
Wordscapes View answers
Wordscapes River answers
Wordscapes Cliff answers
Wordscapes Rapid answers
Wordscapes Pine answers
Precipice
Wordscapes Below answers
Wordscapes Coast answers
Wordscapes Sea answers
Wordscapes Lavish answers
Wordscapes Bluff answers
Related Searches:
wordscapes answers ravine
wordscapes arch answers
wordscapes answers pass 12
wordscapes answers arch 12
wordscapes answers pillar
wordscapes answers cliff
wordscapes answers daily puzzle
wordscapes answers wind
wordscapes download
wordscapes game download
wordscape games online
free wordscape
wordscape free game
wordscapes app
wordscape game answer