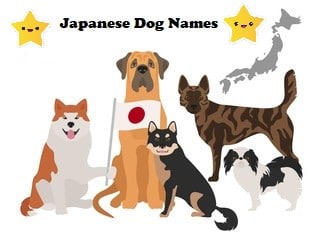 Welcome to Unique Japanese Dog Names And Meanings List!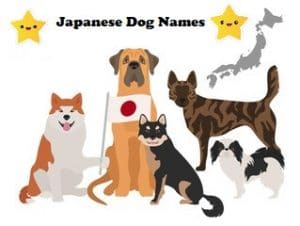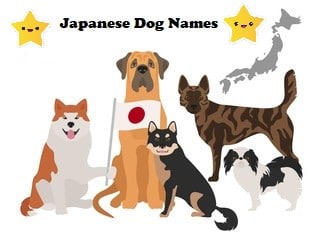 Why is it unique? Unique Japanese dog names list contains a Japanese dog names and meanings plus Anime inspired dog names. It's not just unique, it's EXTENSIVE list of 886 popular Japanese dog name and meanings!
A Japanese dog name or Anime inspired dog name is a great way to reflect your passion and interests even if you are not anime's fan.
If you are looking for a Japanese dog names, our list is in alphabetical order and broken down by male, female and unisex names, also including the meanings behind these Japanese exotic-sounding and desirable dog names.
Please read Japanese Dog Names and Meanings below, just because it may sound pretty but actual meaning could have silly. Unless you don't mind!
You may be interesting to check out Anime name meanings too!
A




Ack – unisex – manga: Eien no With
Afro-ken – unisex – Anime: Afro-ken
Aibo – unisex – Manga: Haikei, Hannibla
Ai – female – "love" (愛藍)
Aika – female – "love song" (愛佳)
Aiko – female – "child of love" (愛子)
Aimi – female – "love beautiful" (愛美)
Aina – female – "love vegetables" (愛菜)
Airi – female – "love jasmine" (愛莉)
Aka – male – Anime: Hozuki's Coolheadedness 2nd Season
Akamaru – male – Anime: Naruto Manga: Naruto
Akame – male – anime: Ginga Densetsu Weed, Silver Fang
Akane – female – "brilliant red" (茜)
Akatora – male – anime: silver fang
Akemi – female – "bright beautiful" (明美)
Aki – unisex – "bright / autumn" (明 / 秋)
Akihiro – male – "great brightness" (明宏)
Akio – male – "bright man" (昭夫)
Akiko – female – "bright child" (明子)
Akira – unisex – "bright / clear" (明 / 亮)
Akky – unisex – manga: The Idolm@ster: Cinderella Girls Theater
Alex – male – anime: Kujibiki Unbalance, Shinryaku! Ika Musume
Alexander – male – anime: Fullmetal Alchemist
Allen – male – anime: D.Gray-man Hallow
Amaterasu – female – "shining heaven" (天照)
Ami – female – "asia beautiful" (亜美)
Ang – unisex – anime: Yu-Gi-Oh! Arc-V
Antaro – unisex – anime: Shounen Maid
Antoinette – female – anime: Ouran High School Host Club
Aoi – unisex – "blue" (碧)
Apache – unisex – anime: Tonkatsu DJ Agetarou
Apo – unisex – anime: Space Brothers, Uchuu Kyoudai: Apo's Dream
Arale – unisex – anime: Cheer Boys!!




Aramis – male – anime: Wanwan Sanjushi
Arata – male – "new, fresh" (新)
Argos – male – anime: Giant Gorg
Armadillo – male – anime: Ranma 1/2
Armageddon – male – anime: Hayate the Combat Butler! Cuties
Arnold – male – anime: JoJo's Bizarre Adventure: Diamond is Unbreakable
Arthur – male – manga: Sprite
Aru – male – manga: :REverSAL
Asami – female – "morning beauty" (麻美)
Asuka – female – "tomorrow perfume, fragrance" (明日香)
Asuka – unisex – manga: Kimi no Kokoro Boku no Kokoro
Atsuko – female – "kind child" (篤子)
Atsushi – male – "industrious director" (敦司)
Athos – male – anime: Wanwan Sanjushi
Avery – male – anime: Gargoyle of the Yoshinagas
Aya – female – "color" (彩)
Ayaka – female – "colorful flower" (彩花)
Ayako – female – "colorful child" (彩子)
Ayame – female – "iris" (菖蒲)
Ayane – female – "colorful sound" (彩音)
Ayano – female – "my color" (彩乃)
Ayumu – male – "walk dream, vision" (歩夢)
B




Bandersnatch – unisex – manga: Pandora Hearts
Baron – unisex – anime: Shoumen Ashibe: Go! Go! Gomachan (2017)
Bass – male – anime: Silver Spoon
Basset Hound – unisex – anime: Je t'aime.
Bean jelly – unisex – anime: Hanada Shonen-shi
Beck – male – anime: Beck
Bee – male – anime: Dragon Ball
Belka – unisex – anime: Little Busters!
Bellatrix – female – manga: Ginga Densetsu Weed Orion
Belle – female – anime: Belle and Sebastian
Ben – male – anime: Ginga Densetsu Weed, Silver Fang, Layton Mystery Journey: Katrielleand the Millionaries' Conspiracy
Benizakura – male – anime: Silver Fang
Beta – unisex – anime: Dream Hunter Rem
Bill – male – anime: Silver Fang
Bis – male – anime: Geneshaft
Bitsy – unisex – anime: Space Battleship Tiramisu
Black Falchion II – male – anime: The iDOLM@STER
Black Hayate – male – anime: Fullmetal Alchemist
Blackie – unisex – manga: Black Cat
Blue – female – anime: Wolf's Rain
Boa – unisex – anime: Seitokai Yakuindomo
Bobby – unisex – anime: Mama wa Shoukagu 4 Nensei
Boku – male – anime: Bannou Yasai Ninninman
Bolt – male – anime: Letter Bee Reverse
Bongsan – unisex – manga: Hellper
Bossun – unisex – anime: Namiuchigiwa no Muromi-san
Bow – male – anime: Heisei Inu Monogatari Bow
Brandon – male – anime: Hamtaro
Breeze – male – anime: Oseam
Brian – male – anime: Shounen Ashibe: Go! Go! Gomachan (2017)
Bruno – male – manga: Kilala Princess
Buchi – unisex – anime: JoJo's Bizarre Adventure: Stardust Crusaders – Battle in Egypt
Buck – male – anime: Call of the Wild: Howl, Buck
Bull – male – manga: Ginga Densetsu Weed Gaiden
Buru – male – anime: Kage Kara Mamoru!
Burumaru – male – anime: Kage Kara Mamoru!
Butter – male – anime: My Girlfriend is Shobitch
Buttller – unisex – anime: Chronos Ruler
C




Caesar – male – anime: So, I Can't Play H!
Camembert – unisex – anime: Love Kome: We Love Rice
Capi – male – anime: Chibikko Remi to Meiken Kapi, Nobody's Boy Remi
Captain Shears – male – manga: Star Fox: Farewell, Beloved Falco
Carl – male – manga: Domina no Do!
Cerberos – male – anime: Eyeshield 21
Cerberus – male – anime: Saint Seiya, Hozuki's Coolheadedness
Cezarine – female – anime: Penelope Tete an I'air
Chalk – unisex – manga: Dr. Stone
Chappy – male – anime: Nangoku Shounen Papuwa-kun Papuwa
Charo – unisex – anime: Hana wa Saku: Touhoku ni Saku, Little Charo
Cheese – unisex – anime: Sore Ike!
Cherry – female – anime: Lucky Star
Chibi – unisex – anime: JoJo's Bizarre Adventure: Stardust Crusaders – Battle in Egypt
Chie – female – "wisdom, intellect" (恵)
Chieko – female – "child of intelligence, wisdom" (恵子)
Chihuahua – unisex – anime: Time Boan 24
Chiharu – female – "one thousand springs (as in season)" (千春)
Chika – female – "scatter flowers" (散花)
Chikako – female – "child of a thousand perfumes" (千香子)
Chiko – female – anime: Hozuki's Coolheadedness
Chikuwa – male – anime: DIVE!, Laid-Back Camp
Chinatsu – female – "one thousand summers" (千夏)
Chiro – unisex – anime: Happiness Charge Pretty Cure!, Hanada Shonen-shi
Chirou – male – anime: Kiki to Lala no Aoi Tori
Chiyo – female – "one thousand generations" (千代)
Chiyoko – female – "child of a thousand generations" (千代子)
Cho – female – "butterfly" (蝶)
Choco – unisex – anime: Kodomo no Omocha, King's Game
Chocolat – unisex – anime: Shounen Ashibe: Go! Go! Goma-chan (2017)




Chocolat NODA – male – anime: Massugu ni Ikou (2004)
Chocotan – female – anime: Chocotan!
Choppy – male – anime: Suzakinishi The Animation
Chou Chou – male – anime: One Piece
Chouko – female – "butterfly child" (蝶子)
Choujo – male – anime: Gag Manga Biyori 2
Chuck – unisex – anime: Panty & Stocking …
Chutaro – male – anime: Pretty Cure, Silver Fang
Cinnamoroll – male – anime: Cinnamon's Parade
Clint – unisex – anime: Yomigaeru Sora-Rescue Wings
Columbus – male – anime: Steamboy
Coney – male – anime: Tokyo Babylon Constable
Bully – male – anime: 80 Days Around the World With Willy Fog
Coo-chan – unisex – anime: Pshiri Kajiri Mushi 2
Cookie – female – anime: Hozuki's Coolheadedness
Corgito – unisex – anime: Hozuki's Coolheadedness 2nd Season
Croken – male – anime: Donyatsu
Croquette – male – manga: House of the Sun
Crosby – male – anime: Jack and the Beanstalk
Cross – female – anime: Ginga Densetsu Weed, Silver Fang
Cub – male – anime: 5 Centimeters per Second
D




Dai – male – "great, large" (大)
Daisuke – male – manga: Tokyo Mew Mew
Daichi – male – "great land" (大地)
Daiki – male – "great glory / great nobility" (大輝 / 大貴)
Daisuke – male – "great help" (大輔)
Dankichi – male – manga: Hajimari no Niina
Danny – male – anime: JoJo's Bizarre Adventure (2012)
David – male – anime: Chi's New Address
David Dog – male – anime: Paboo & Mojies
Debit – male – anime: Happiness Charge Pretty Cure!
Den Rockbell – unisex – anime: Fullmetal Alchemist
Densuke – male – anime: Denno Coil
Dero – unisex – manga: Q and A
Detective Kun-Kun – male – anime: Rozen Maiden …
Dog – unisex – anime: Gregory Horro Show, Ai Mai Mii, Eden of the East, GANTZ, Smile Pretty Cure! Movie: Ehon no Naka wa Minna Chiguhagu, Sarusuberi – Miss Hokusai, 91 Days, D.Gray-man, Gabriel Dropout, Forest Fairy Five: Fairy Tale, Aho-Girl, 40meterP:Do Re Mi Fa
Rondo Dog King – male – manga: Carnivorous Princess Yegrinna
Dogranian – male – anime: Wanwan Sanjushi
Dogtato-kun – male – anime: Dogtato-kun
Doliido – male – anime: Guilty Crown: Lost Christmas
Doogee Yongzhi – male – anime: The Tibetan Dog
Dude – male – maga: Descendants: Rotten to the Core
Dufen – unisex – manga: Sugar Dark: Umerareta Yami to Shoujo
Duke Fang – male – manga: Battle Angel Alita
E




Eiffel – male – anime: Nanami-chan …
Eiko – female – "child of splendor" (栄子)
Ein – male – anime: Cowboy Bebop …
Eiji – male – "eternity order" (永次)
Elga Kinosaki – female – manga: Inumimi
Elizabeth – female – anime: Okami-san & Her Seven Companions
Emi – female – "beautiful blessing" (恵美)
Emiko – female – "beautiful blessing child" (恵美子)
Emiru's Dog – female – anime: Kirakira Pretty Cure a la Mode
Enek – unisex – anime: Spice and Wolf …
Eri – female – "blessed prize" (絵理)
Etsuko – female – "child of joy" (悦子)
Eye – male – manga: Eien no With
F




Fang – unisex – manga: Fang
Fatty – male – manga: Provence
Fenrir – unisex – anime: Hanaukyou Maid Team: La Verite
Figaro – male – anime: Kaiketsu Zorro
Finch #3 – unisex – manga: Subtle Disaster
Finch #2 – unisex – manga: Subtle Disaster
Flanders – male – anime: Mobile Suit Victory Gundam
Framboise – unisex – anime: Anne-Happy
Francois – male – anime: Aka-chan to Boku
Francoise – unisex – anime: Okami-san & her Seven Companions
Frank – male – manga: Princess Resurrection
Franken – male – anime: Hells Angels, Francesca
Frate – unisex – anime: Joker Game
Friender – unisex – anime: Casshan: Robot Hunter, Casshern Sins, Infini-T Force, Shinzou Ningeri Casshern
Fumiko – female – "child of abundant beauty" (富美子)
Fumio – male – "literature, scholarly hero" (文雄)
Fuji – female – anime: Silver Fang, Gokusen
Fujimaru – male – manga: Tropic of the Sea
Fujio's Dog – unisex – manga: Tokyo Zombie
Fuzzy – male – anime: The Morose Mononokean
G




Gamu – unisex – manga: Kacchu no Senshi Gamu!
GB – male – anime: Ginga Densetsu Weed
Gemon Gemon – male – anime: Mobile Suit SD Gundam Mk IV
Gen – male – anime: Massugu ni Ikou (2004)
General Pepper – male – anime: Star Fox Zero: The Battle Begins
Genta – female – anime: Mnemosyne
Gill – male – anime: Ruin Explorers
Gin – male – anime: Ginga Densetsu Weed
Gogo – unisex – anime: Out of Sight
Gonsuke – unisex – anime: World Fool News
Gonta – unisex – anime: Kodomo no Omocha
Goro – male – "fifth son" (五郎)
Gorou – unisex – anime: Koroshiya-san: The Hired Gun
Great – male – anime: Silver Fang
Gregorio – male – anime: 100% Pascal-sensei (2017)
Grinder – male – anime: Hello Kitty's Furry Tale Theater
Gumi – male – anime: Kuromajo-san ga Tooru!!
Guri – unisex – anime: Mahoromatic …
Gus – male – anime: Letter Bee Reverse
Guts – male – anime: Kill La Kill
H




Hachibei – female – manga: Ouran High School Host Club
Hachiro – male – "eighth son" (八郎)
Hajime – male – "beginning" (肇)
Hakubi – male – anime: Kekkaishi
Hakutaka – male – manga: Ginga Densetsu Akame
Halloween – unisex – anime: Dear Brother
Hana – female – "flower" (花) – anime: Kotatsu Neko, Futatsu no Kurumi
Hanako – female – "flower child" (花子) – anime: The iDOLM@STER: Cinderella Girls, Massugu no kou, Inuyashiki
Happie – unisex – manga: Stargazing Dog
Happy – male – anime: Chocotan!
Harimao – unisex – anime: Da Capo …
Haru – male – "spring (as in season)" (春)
Haruki – male – "shining sun" (陽輝)
Haruo – male – "man of spring" (春男)
Haruto – male – "sun flying" (陽斗)
Hathor – unisex – manga: Ureshon
Hayatarou – male – anime: Laid-Back Camp
Hayate –  male – "smooth" (颯) – anime: Howl's Moving Castle
Hayato – male – "falcon person" (隼人)
Heiji – male – manga: Ginga Densetsu Riki
Herb – male – anime: Nurse Angel Ririka SOS
Hibiki – male – "sound, echo" (響)
Hideaki – male – "excellent bright, shining" (英明)
Hideki – male – "excellent timber trees" (英樹)
Hideo – male – "excellent husband, man" (英夫)
Hideyoshi – male – "excellence good" (秀良)
Hikaru – unisex – "light, radiance" (光)
Hikari – female – "light, radiance" (光)
Hina – female – "sun vegetables" (陽菜)
Hinata – unisex – "sunflower / facing towards the sun" (向日葵 / 陽向)
Hiraku – male – "open, expand" (拓)
Hiro – unisex – "generous" (寛)




Hiroaki – male – "wide, spacious light" (広明)
Hiroki – male – "vast timber trees" (弘樹)
Hiroko – female – "generous child" (寛子)
Hiromi – female – "generous beauty" (寛美)
Hironori – male – "chronical of command, esteem" (博紀)
Hiroshi – male – "generous" (寛)
Hiroto – male – "great,large flying" (大斗)
Hiroyuki – male – "great journey" (宏行)
Hisao – male – "long living man, husband" (寿夫)
Hisashi – male – "long time director, ruler" (久司)
Hisako – female – "child of long life" (久子)
Hiskoa – male – "cautious, reserved" (密)
Hiroshi – male – "motivated person" (人志) – manga: Sugar Sugar Rune
Hitomi – female – "pupil of the eye" (瞳)
Hokuto – male – anime: Beyblade: Metal ….
Holly – unisex – manga: Elen no With
Holy – male – anime: One Piece
Homura – female – anime: Dog Days
Honoka – female – "harmony flower" (和花)
Hoshi – female – "star" (星)
Hoshiko – female – "star child" (星子)
Hotaru – female – "firefly" (蛍)
Hotaka – male – "tall grain" (穂高)
Human-Faced Boxer – male – anime: Passionate Detective Agency
Human-Faced Greyhound – female – anime: Passionate Detective Agency
Hyena – male – anime: Silver Fang
I




Ichi – unisex – anime: Doraemon …
Ichiro – male – "first son" (一郎)
Iggi – male – anime: JoJo's Bizarre Adventure …
Indy – unisex – anime: Long Riders!
Inspector Dix – male – anime: 80 Days Around the World With Willy Fog
Inspector Lestrade – male – anime: Sherlock Hound
Inu – male – anime: Blood-C …
Inugami – male – anime: Momo Kyun Sword
Inumi – female – anime: Puchimas! Petit iDOLM@STER
Inuo – unisex – anime: Sketchbook `full color's`
Inuyama – unisex – anime: Kyousougiga …
Isamu – male – "brave, courageous" (勇)
Isao – male – "merit" (勲)
Itsuki – male – "timber trees" (樹)
Izuna – male – manga: Ginga Densetsu Akame
Izumi – female – "spring, fountain" (泉)
J




Jack – male – anime: Flying Ghost Ship
Jagamaru – unisex – anime: Yomigaeru Sora-Rescue Wings
Jaguar – male – anime: Silver Fang
Jajamaru – male – manga: O-Parts Hunter
Jinnai – male – anime: Silver Fang
Jiro – male – "second son" (二郎)
Jiro Hanada – unisex – anime: Hanada Shonen-shi
Jirou – unisex – anime: Kateikyoushi Hitman Reborn!
Jiroumaru – unisex – manga: Ginga Densetsu: Anju to Jiromaru
Jody – female – manga: Ginga Densetsu Weed Gaiden
Joe – male – anime: Bara no Hana to Joe
John – male – anime: Tiger & Bunny, Black Laggon, Happiness Charge Pretty Cure!, Magical Angel Creamy Mami
John Watson – male – anime: Sherlock Houd …
Jojomaru – male – manag: O-Parts Hunter
Jolly – unisex – manga: See, Hear, Love
Joseph – male – anime: Heidi
Josephine – female – anime: Handa-kun
Juliette – female – anime: Wanwan Sanjushi
Jump – unisex – anime: Astroboy (1980)
Jun – unisex – anime: Laughing Target
Jun – unisex – "obedient" (順)
Junichi – male – "obedient first (son)" (順一)
Junko – female – "pure, genuine child" (純子)
Juro – male – "tenth son" (十郎)
K




Kaede – unisex- "maple" (楓)
Kaito – male – "ocean flying" (海斗)
Kamiko – female – "superior child" (上子)
Kanako – female – "fragrant Nara(city in japan) child" (香奈子)
Kanon – female – "flower sound" (花音)
Kaori – female – "perfume, fragrance" (香)
Kaoru – unisex- "fragrance" (薫)
Kasumi – female – "mist" (霞)
Katsumi – female – "victorious beauty" (勝美)
Katashi – male – "firm" (堅)
Katsu – male – "victory" (勝)
Katsuo – male – "victorious, heroic man" (勝雄)
Katsuro – male – "victorious son" (勝郎)
Kanesada Kuji – unisex – manga: Strike Witches: Maidens in the Sky
Kazemaru – unisex – anime: Tomoe ga Yuku!
Kazue – female – "first blessing" (一恵)
Kazuko – female – "child of harmony" (和子)
Kazumi – "harmonious beauty" (和美)
Kazuhito Harumi – male – anime: Dog & Scissors
Kazuhiko – male – "harmonious boy" (和彦)
Kazuhiro – male – "great harmony" (和宏)
Kazuki – male – "harmony hope" (和希)
Kazuo – male – "man of harmony" (和夫)
Kei – female – "respectful" (敬)
Keiko – female – "blessed child / respectful child" (恵子 / 敬子)
Ken – male – "strong, healthy" (健)
Kenichi – male – "strong, healthy first (son)" (健一)
Kenji – male – "strong, healthy second (son)" (健二)
Kenshin – male – "modest truthful" (謙信)
Kenta – male – "large strong, healthy" (健太) – anime: Wolf Girl and Black Prince
Kentauros – male – anime: Tamala 2010″ A Punk Cat in Space
Kerberos – unisex – anime: Elegant Youkai Apartment Life
Kevin – unisex – anime: Just Becuase!




Kichiro – male – "lucky son" (吉郎)
Kiko – female – "chronical child" (紀子)
Kiku – female – "chrysanthemum" (菊)
Kiku Ichimonji II – male – anime: Mao-chan
Kimi – female – "noble" (君)
Kimiko – female – "empress child" (后子)
Kin – unisex- "gold" (金)
King Louis – male – anime: Wanwan Sanjushi
Kirby – unisex – anime: Avengers Confidential: Black Widow & Punisher
Kirikaze – male – anime: Silver Fang
Kisaragi – male – anime: Silver Fang
Kito – male – anime: Konohana Kitan
Kiyoko – female – "pure child" (清子)
Kiyomi – female – "pure beauty" (清美)
Kiyoshi – male – "purity" (淳)
Kohaku – unisex- "amber" (琥珀)
Kokoro – female – "soul, heart" (心)
Koma – unisex – manga: Butsu Zone
Komachi – female – manga: Boku no Petto
Koro – unisex – anime: Koro no Dai Sanpo
Korokke – unisex – manga: AiON
Koromaru – male – anime: Persona 3 …
Koromi – unisex – manga: MeruPuri
Kotaro – unisex – manga: Shiranui Kitanroku
Kotarou – male – anime: Lupin III Special 22: The Last Job
Kotone – female – "sound of the koto (Japanese harp)" (琴音)
Kouki – male – "light hope" (光希)
Kouta – male – "great peace" (康太)
Kouya – male – anime: Kekkaishi
Koyuki – female – manga: Ginga Densetsu: Anju to Jiroumaru
K-Ta – male – manga: AKB49 – Renai Kinshi Jourei
Kuma – male – manga: Ginga Densetsu Akame
Kumiko – female – "long-time beautiful child" (久美子)
Kumu – unisex – anime: Dual Parallel! Trouble Adventures Special
Kunio – male – "country man" (國男)
Kuon – unisex – manga: Kimi no Kokoro Boku no Kokoro
Kurimaru – unisex – anime: Anohana: The Flower We Saw That Day
Kuro – male – "ninth son" (九郎) – anime: Hozuki's Coolheahedness 2nd Season
Kurojaki – male – anime: Silver Fang
Kuroki – male – manga: Shinobi Life
Kurotora – male – anime: Ginga Densetsu Weed, Silver Fang
Kurt – male – anime: Master Keaton OVA
Kyanwan – unisex – anime: Steel Angel Kurumi 2
Kyo – unisex- "cooperation" (協)
Kyoko – female – "respectful child" (恭子)
L




Lab – female – anime: Passionate Detective Agency
Lambert – male – anime: Tales of Vesperia `The First Strike`
Lani – unisex – anime: Omishi Magical Theater: Risky Safety
Largo – female – anime: Black Jack …
Lassie – male – anime: Meiken Lassie …
Lasso – male – anime: One Piece
Lazlo – male – anime: Black Laggon
Leader – male – anime: Honey and Clover …
Leghorn – unisex – manga: bloodhoud
Lily – female – manga: Provence
Lingam – male – anime: Genmu Senki Leda
Little Belly – male – manga: Inu Neko Jump!
Little Dog – unisex – anime: Chitose Get You!!
Love – unisex – anime: Shiki, Shiki Specials, Chi's Sweet Adventure
Ludo Shubarie – male – manga: Lucifer and the Biscuit
Luna Kinosaki – female – manga: Inumimi
Lupin – male – anime: Detective Conan Movie 14: The Lost Ship in the Sky
Lyuba – male – anime: Super Lovers 2
M




Macaron – unisex – manga: Shinmai Fukei Kiruko-san
Madoka – unisex – "circle, round" (円)
Mai – female – "dance" (舞)
Maiko – female – "child of dance" (舞子)
Maki – female – "true hope" (真希)
Makkachin – unisex – anime: Yuri!!! on Ice
Makoto – unisex – "sincere" (誠)
Mallow – male – anime: Dokidoki! Pretty Cure Movie
Maltese – male – anime: Passionate Detcetive Agency
Mamenosuke – male – anime: Mameneko
Mametarou – male – anime: Massugi ni Ikou …
Mamoru – male – "protector, guard" (守) – manga: Fire Force
Mami – female – "true beauty" (真美)
Mana – female – "love" (愛)
Manabu – male – "study, learn" (学)
Manami – female – "loving beautiful" (愛美)
Mango – unisex – manga: Narakarana
Mao – female – "dance cherry blossom" (舞桜)
Mariko – female – "true village child" (真里子)
Marchosias – unisex – Myriad Colors Phantom World …
Marcy – unisex – manga: Eien no With
Marie Hudson – female – anime: Sherlock Hound
Maron – unisex – anime: To LOove- Ru …
Maru – female – anime: Suteki Tantei Labyrinth
Masa – unisex – "just / true" (正 / 真)




Masaaki – male – "pleasing brightness" (良昭)
Masahiko – male – "righteous boy" (正彦)
Masahiro – male – "great prosperity" (昌宏)
Masaki – male – "great timber tree" (昌樹)
Masami – female – "become beautiful" (成美)
Masanori – male – "model of righteousness, justice" (正則)
Masao – male – "righteous man" (正男)
Masaru – male – "victory" (勝)
Masashi – male – "righteous aspiration" (正志)
Masato – male – "righteous person" (正人)
Masayoshi – male – "righteous, honorable" (正義)
Masayuki – male – "righteous blessing" (正幸)
Masshu – unisex – anime: Gokinjo Monogatari
Master – unisex – anime: Love to Lie Angle
Masumi – unisex – "true clarity" (真澄)
Masuyo – female – "benefits the world" (益世)
Matt – male – anime: Sex and Violence with Mach Speed
Max – male – anime: RahXephon
Maximillian – male – manga: Pochi and Tama
Mayu – female – "true gentle" (真優)
Mayumi – female – "true gentle beauty" (真優美)
Mayuge – unisex – anime: Marginal#4: Kiss kara Tsukuru Big Bang
McEnroe – male – anime: Maison Ikkoku
Meg – female – anime: Crayon Shin-chan
Megumi – female – "blessing" (恵)
Mei – female – "sprouting life" (芽生)
Mel – male – anime: Ginga Densetsu Weed
Melampo – male – manga: Gepetto
Menchi – female – anime: Excel Saga
Menchihuahua – female – anime: Donyatsu
Mercury – unisex – anime: Pumpkin Scissors
Maron – unisex – manga: Beast Master




Maru – female – anime: Suteki Tantei Labyrinth
Masshu – unisex – anime: Gokinjo Monogatari
Master – unisex – anime: Love to Lie Angle
Matt – male – anime: Sex and Violence with Mach Speed
Max – male – anime: RahXephon
Maximillian – male – manga: Pochi and Tama
Mayuge – unisex – anime: Marginal#4: Kiss kara Tsukuru Big Bang
McEnroe – male – anime: Maison Ikkoku …
Meg – female – anime: Crayon Shin-chan
Mel – male – anime: Ginga Densetsu
Melampo – male – manga: Gepetto
Menchi – female – anime: Excel Saga
Menchihuahua – female – anime: Donyatsu
Mercury – unisex – anime: Pumpkin Scissors
Merukuru – unisex – anime -: Poco's Udon World
Mi – female – "beautiful" (美)
Michael – male – anime: Sister Princess
Michi – unisex – "pathway" (道)
Michiko – female – "beautiful wise child" (美智子)
Michio – male – "man on a journey" (道夫)
Midori – female – "green" (緑)
Mieko – female – "beautiful blessing child" (美枝子)
Miho – female – "protected, guaranteed beauty" (美保)
Mika – female – "beautiful fragrance" (美香)
Mike – male – anime: Hunter x Hunter
Miki – female – "beautiful princess" (美姫) – anime: Tokyo Mew Mew
Mikio – male – "tree trunk man" (幹夫)
Miku – female – "beautiful sky" (美空)
Minako – female – "beautiful child" (美奈子)
Minori – unisex – "truth" (実)
Minoru – unisex – "truth" (実)




Mio – female – "beautiful cherry blossom" (美桜)
Misaki – female – "beautiful blossom" (美咲)
Missile – male – manga: Phoenix Wright: Ace Attorney
Mitsuko – female – "child of light" (光子)
Mitsuo – male – "shining hero" (光雄)
Mitsuru – unisex – "satisfy, full" (満)
Miu – female – "beautiful feather" (美羽)
Miwa – female – "beautiful hamony, peace" (美和)
Miyako – female – "beautiful night child" (美夜子)
Miyoko – female – "beautiful child of the generations" (美代子)
Miyu – female – "beautiful gentle" (美優)
Miyuki – female – "beautiful blessing" (美幸)
Mizuki – female – "beautiful moon" (美月)
Miyuki – female – manga: Ichika Nikki
Moe – female – "sprouting" (萌)
Momo – unisex – anime: Pretty Cure All Stars New Stage: Mirai no Tomodachi
Momoe – female – "one hundred blessings" (百恵)
Momoka – female – "peach tree flower" (桃花)
Momoko – female – "peach tree child" (桃子)
Mookie – unisex – anime: Nadia: Secret of Blue Water
Moriko – female – "child of the forest" (森子)
Moss – male – anime: Ginga Densetsu Weed
Mu – unisex – anime: And you thought there is never a girl online?
Muco – unisex – anime: Lovely Movie: Lovely Muuuuuuuuco!
Muku – unisex – anime: Suzuka
Mukumuku – male – manga: Chinatsu no Uta
Mummy Dog – male – anime: Gregory Horror Show
Mummy Papa – male – anime: Gregory Horror Show
Musashi – male – anime: Silver Fang
N




Nachi – female – manga: Black Torch
Nana – female – "seven" (七) – anime: Rainy Cocoa: Ame-con!!
Nanami – female – "seven seas" (七海)
Nang-Nak – unisex – manga: My Young Cat and My Old Dog
Nari – female – anime: The Tibetan Dog
Nao – unisex – "honest" (直)
Naoki – male – "honest timber tree" (直樹)
Naoko – female – "honest child" (直子)
Naomi – female – "honest beautiful" (直美)
Natsuki – female – "summer hope" (夏希)
Natsuko – female – "summer child" (夏子)
Natsumi – female – "beautiful summer" (夏美)
Nello – female – manga: Deep Love – Pao no Monogatari
Nelson – male – manga: Young Miss Holmes
Nitaro – male – anime: The Kabocha Wine
Noa – female – "my love" (乃愛)
Noboru – male – "ascend, rise" (翔)
Nobu – male – "prolong" (延)
Nobuko – female – "faithful, trustworthy child" (信子)
Nobuo – male – "faithful, trustworthy man" (信夫)
Noburu – male – "expand" (伸)
Nobuyuki – male – "truth joy" (信幸)
Nono – unisex – anime: Kamisama Dolls
Norakuro – unisex – anime: Norakuro …
Nori – male – "to rule" (儀)
Noriko – female – "lawful child" (典子)
Norio – male – "lawful man" (法男)
Norio-san – male – anime: Meganebu!
Noukan Kihara – male – manga: To Aru Majutsu no Index: New Testament (Light Novel)
O




Oakie – male – manga: Uncomfortably Happily
Orion – unisex – manga: Ginga Densetsu Weed Orion
Osamu – male – "disciplined, studious" (修)
Oslow – male – anime: The Seven Deadly Sins
Ossan – male – anime: Kappa no Coo to Natsuyasumi
Owner – male – anime: Blend S
Ozaru – male – manga: Ginga Densetsu Akame
P
Pakkun – male – anime: Naruto …
Pao – male – manga: Deep Love – Ayu no Monogatari
Papi – unisex – manga: My Little Lover
PaRappa – male – anime: Parappa the Rapper
Parasite Dog – unisex – anime: Parasyte-The Maxin
Passionate Human-Faced Dog – male – anime: Passionate Detective Agency
Patra – male – anime: Tokyo Revelation
Patrasche – male – anime: Flanders no Ihu
Patricia – female – anime: Mangirl!
Patriot – unisex – anime: 801 T.T.S. Airbats
Peace – male – anime: Bakuman. 3
Peach – unisex – anime: Ontama!
Pechi – unisex – anime: Non Non Biyori Repeat




Pedro Martinez – male – anime: Kimi ni Todoke
Pess – female – manga: Boku no Hitsugi de Bansan o
Pia – female – manga: Boku no Hitsugi de Bansan o
Pluto – male – anime: Black Butler …
Pochacco – male – anime: Hello Kitty's Fury Tale Theater
Pochi – unisex – anime: Soul Eater Not!, Tama and Friends, How to Keep a Mummy
Pochiro – unisex – anime: Pochitto Hatsumei: Pikachin-Kit
Pocky – unisex – anime: JoJo's Bizarre Adventure: Stardust Crusaders
Police – unisex – anime: JoJo's Bizarre Adventure: Diamond is Unbrekable
Pome-chan – female – anime: Aho-Girl
Pomemaru – unisex – manga: Amanin Shoujo Azuki
Ponta Koizumi – female – manga: Guru Furu Pon-chan
Pooch – female – anime: Barakamon
Poppy – unisex – anime: Hello!! Kiniro Mosaic
Porsche – male – manga: Provence
Potato – male – anime: Air
President – male – anime: Mahoujin Guru Guru (2017)
Professor – unisex – anime: Upotte!!
Proust – male – manga: Our Everlasting
Pryna – female – anime: Brotherhood: Final Fantasy XV
Pucchi – unisex – manga: Citrus
Pinch – unisex – anime: Touch …
Punchy – male – manga: Nisekoi: False Love
P.U.P. – female – anime: Space Dandy
Puppy – unisex – anime: Elfen Lied
Pyon – unisex – manga: The Licking Woman
R




Rabbi – male – anime: Machine-Doll wa Kizutsukanai
Race – unisex – manga: Fire Force
Rachmaninov – unisex – manga: Kayahimashi Yuuga na Seikatsu
Rain – unisex – anime: Rainy Cocoa …
Ran – female – "orchid" (蘭)
Randy – unisex – manga: Inumimi
Rau – male – anime: Tokyo Mew Mew
Razor – unisex – anime: Blade
Razzbell – unisex – manga: A Love That Conquers Gods
Re – female – "true blessing" (理恵)
Rei – female – "lovely" (麗)
Reiko – female – "lovely child" (麗子)
Reiji – male – anime: Tentai Senshi Sunred
Ren – male – "lotus / love" (蓮 / 恋)
Rena's Dog – male – anime: Donozaurs: The Series
Repede – male – anime: Tales of Vesperia `The First Strike`
Rezan Kaneda – female – manga: Koi Toka, Kiss Toka, Karada Toke.
Rigel – male – manga: Ginga Densetsu Weed Orion
Rika – female – "true fragrance" (理香)
Riko – female – "child of truth" (理子)
Riki – male – anime: Silver Fang
Riku – male – "land" (陸) – anime: Kino's Journey …
Rikuto – male – "person of land" (陸人)
Rilienthal Hino – unisex – manga: Kashikoi Inu Rilienthal




Rin – female – "dignified" (凛)
Rina – female – "jasmine" (莉奈)
Rina Kinosaki – female – manga: Inumimi
Rin Tin Tin – male – anime: Kennel Tokorozawa
Rio – female – "village cherry blossom" (里桜)
Riviera – unisex – anime: Machine-Doll wa Kizutsukanai
Roco – male – anime: Joker …
Roku – unisex – manga: Chinatsu no Uta
Rokuro – male – "sixth son" (六郎)
Ron – male – manga: Ginga Densetsu Weed Gaiden
Rugul – unisex – anime: www.Working!!
Ruma – unisex – anime: Kodomo no Omocha
Rush – male – anime: Rockman: Hishi ni Negai wo
Ryan – male – anime: Futatsu no Kurumi
Ryo – male – "refreshing, cool" (涼)
Ryoichi – male – "good first (son)" (良一)
Ryoga – male – manga: Golden Kamuy
Ryoko – female – "refreshing child" (涼子)
Ryota – male – "great refreshment" (涼太)
Ryu – male – manga: Golden Kamuy
Ryuu- male – "dragon, imperial" (龍)
Ryuunosuke – male – "nobleman's predecessor" (隆之介)
S




Sable – unisex – anime: My Teen Romantic Comedy SNAFU
Saburo – male – "third son" (三郎)
Saburoumaru – male – manga: Ginga Dentetsu Anju to Jiroumaru
Sachiko – female – "joyful, happy child" (幸子)
Sadaharu – male – anime: Gintama …
Sadako – male – anime: First Love Monster
Sadao – male – "righteous hero" (貞雄)
Saji – male – anime: Binchou-tan
Saki – female – "blossom of hope" (咲希)
Sakura – female – "cherry blossom" (桜 / さくら) – anime: Bakumatsu Gijinden Roman
Sakurako – female – "cherry blossom child" (桜子)
Salad – female – anime: Maison Ikkoku …
Sammy – unisex – anime: Ox Tale
Sasuke – male – anime: Inazuma Elevel GO …
Satake – unisex – anime: Strawberry Marshmallow
Satoko – female – "wise child" (聡子)
Satomi – female – "beautiful and wise" (聡美)
Satoru – male – "wise, fast learner" (聡)
Satoshi – male – "wise, fast learner" (聡)
Sayuri – female – "small lily" (小百合)
Scoop – unisex – manga: Ran to Haiiro no Sekai
Sebastian – male – anime: Massugu ni Ikou
Seichiro – male – anime: Dash! Kappei
Seiichi – male – "refined, pure first (son)" (精一)
Seiji – male – "refined, pure second (son)" (精二)
Seko – male – manga: Gun-Jou
Selene – unisex – anime: Seikon no Qwaser …
Setsuko – female – "melody child" (節子)
Shadow – male – anime: The Royal Tutor
Sheri – male – anime: Layton's Mystery Journey: Katrielle and the Millionaires' Consipiracy
Sherlock Hound – male – anime: Sherlock Hound
Shiba Inuko – female – anime: Shiba Inuko-san
Shichiro – male – "seventh son" (七郎)
Shigeo – unisex – anime: Hitorijime My Hero




Shigeko – female – "growing child" (成子)
Shigero – male – "heavy man" (重夫)
Shigeru – male – "luxuriant, well grown" (茂)
Shiitake – female – anime: Love Live! Sunshine!!
Shika – female – "deer" (鹿)
Shin – male – "truth" (真)
Shine – male – anime: Rainy Cocoa in Hawaii
Shinichi – male – "true first (son)" (真一)
Shinji – male – "true second (son)" (真二)
Shinju – female – "pearl" (真珠)
Shinobu – unisex – "endurance" (忍)
Shippei-Tarou – male – anime: Folktales from Japan
Shiro – male – "fourth son" (四郎) – anime: Crayon Shin-chan …
Shiori – female – "poem" (詩織)
Shishiku – male – anime: Magica Wars
Shizuka – female – "quiet summer" (静夏)
Shizuko – female – "quiet child" (静子)
Sho – male – "to fly" (翔)
Shoichi – male – "flying son (first)" (翔一)
Shoji – male – "flying son (second)" (翔二)
Shouta – male – "big flying" (翔太)
Shu – male – anime: Dragon Ball …
Shun – female – "speed, quick" (駿)
Shuichi – male – "disciplined, studious first (son)" (修一)
Shuji – male – "disciplined, studious second (son)" (修二)
Silver – male – anime: Yozakura Quarter
Sirius – male – manga: Ginga Dendetsu Weed Orion
Sisi – male – anime: Code: Realize ~Guardian of Rebirth~
Sky – unisex – anime: Secret of Cerulean Sand
Smiley – male – anime: Sherlock Hound
Smith – male – anime: Ginga Densetsu Weed
Sniff Sniff Trace-kun – unisex – anime: Motto To Love-Ru




Sniper – male – anime: Silver Fang
Snowy – male – manga: The Walking Man
Soichiro – male – anime: Maison Ikkoku …
Sola – unisex – anime: IGPX: Immortal Grand Prix
Sora – female – "sky" (昊 / 空) – anime: Massugu ni Ikou
Sorry-oo – male – anime: Delightful Moomin Family
Souffle – unisex – anime: Battle Girl High School
Souchirou – unisex – manga: Otaku no Musume-san
Souta – male – "large sudden" (颯太)
Speed Demon – unisex – anime: Tamako Market
Squeezed Dog – unisex – anime: Ga-Ra-Ku-Ta: Mr.Stain on Junk Alley
Stray Dog – unisex – manga: Beast Master
Strelka – female – anime: Little Busters! …
Subaru – male – anime: From The New World
Sukeroku – unisex – anime: Ranma 1/2
Sumiko – female – "child of clarity" (澄子)
Sumikko – unisex – manga: I'm no Angel!
Susumo – male – "to advance, proceed" (進)
Suu – unisex – manga: Ikusa x Koi
Suzu – female – "bell" (鈴)
Suzume – female – "sparrow" (雀)
T




Tackle – male – anime: Kaiketsu Zorro
Tadakichi-san – male – anime: Azumanga Daioh
Tadao – male – "loyal, faithful man" (忠夫)
Tadashi – male – "loyal, faithful" (忠)
Taichi – male – "large first (son)" (太一)
Taiki – male – "great radiance, shine" (大輝)
Taishoo – unisex – manga: Sugar Code
Takahiro – male – "of great value, nobility" (貴大)
Takako – female – "noble child" (貴子)
Takao – male – "nobleman" (貴夫)
Takara – female – "treasure" (宝)
Takashi – male – "prosperous, noble" (隆)
Takayuki – male – "noble journey" (隆行)
Takehiko – male – "bamboo prince" (竹彦)
Takeuchi – male – anime: Papuwa
Takeo – male – "warrior hero" (武雄)
Takeshi – male – "fierce warrior" (武)
Takuma – male – "opening truth" (拓真)
Takumi – male – "artisan" (匠)
Tammy – female – anime: Kawa no Hikari
Tamiko – female – "child of many beauties" (多美子)
Tamotsu – male – "protector, keeper" (保)
Tanuki – unisex – anime: Super Lovers
Taro – male – "large son" (太郎) – anime: Shiki
Taromaru – male – anime: School-Live!
Tarou – male – anime: Kagewani
Taroumaru – male – manga: Ginga Densetsu: Anju to Jiroumaru
Tasuke – male – anime: Master Keaton
Tatsumaki – male – anime: Dog Days …
Tatsuo – male – "dragon, imperial hero" (竜雄)
Tatsuya – male – "to be imperial, dragon" (竜也)
Tenmaru – male – anime: Figure 17
Teruko – female – "shining child" (照子)
Tetsunoshin – unisex – anime: Wan Wan Serepuu Soreyuke! Tetsunoshin
Tetsuya – male – "philosophy, clear" (哲也)
The Chief – male – anime: Hozuki's Coolheadedness 2nd Season
The Dog – unisex – manga: Yaoyoro!




Tibetan Mastiff King – male – anime: The Tibetan Dog
Tobimaru – male – anime: Sword of the Stranger
Toby – male – manga: Ana no Mujina
Tocky – male – anime: You're Being Summoned, Azazel
Togechi – female – mangaL Nisekoi: False Love
Toki – male – manga: Ginga Densetsu Akame
Tokugawa – male – anime: Miracle Train
Tomiko – female – "child of wealth, fortune" (富子)
Tomio – male – "wealth, fortune" (富)
Tomohiro – male – "west village" (西村)
Tomoko – female – "child of wisdom, intellect" (智子)
Tomomi – female – "beautiful friend" (朋美)
Torabolt – female – anime: Petopeto-san
Toru – make – "penetrate, make clear" (徹)
Toshi – make – "wise" (慧)
Toshiaki – make – "advantageous light" (利明
Toshiko – female – "clever child" (敏子)
Toshio – male – "genious leader, hero" (俊雄)
Toshiyuki – male – "of wisdom" (智之) – anime: Ramen Fighter Miki
Totakeke – male – anime: Animal Crossing
Toto – unisex – manga: Orange Marmalade
Tsubaki – female – "camellia flower" (椿)
Tsubame – female – "swallow (bird)" (燕)
Tsukiko – female – "moon child" (月子)
Tsukudani – male – anime: Poyopoyo Kansatsu Nikki
Tsuneo – male – "consistant hero" (恒雄)
Tsutomu – male – "diligence" (勤)
Tsuyoshi – male – "strong" (剛)
U
Umbra – male – anime: Brotherhood Final Fantasy XV
Ume – female – "plum" (梅) – manga: Dear
Umeko – female – "plum child" (梅子)
Urusainu – unisex – anime: Kotenkotenko
Usagi – female – "rabbit" (兎)
V




Vice Prez – male – anime: Silver Sppon (2014)
Victor – male – anime: Yuri!!! on Ice
Vulcan – male – anime: Cross Ange: Rondo of Angels and Dragons
W




Wakame – unisex – manga: Inu ga Arukeba
Wakana – female – "harmonious music" (和奏)
Wala – unisex – anime: The Tibetan Dog
Wallace – male – Tantei Opera Milky Holmes: Alternative
Wan – unisex – anime: Ani'Kuri15
Wan-chan – male – anime: Rizelmine
Wansuke – male – anime: Circuit Angel: Ketsui no Starting Grid
Wanta – male – anime: Elfen Lied …
Washington – male – anime: Project Blue Earth SOS
Wataame – male – anime: Love Live! Sunshine!!
Wazu – male – anime: One Piece 3D: Mugiwara Chase
Weed – male – anime: Ginga Densetsu Weed
Winnie – unisex – anime: Free! Eternal Summer
Wondeful – male – anime: Vampire Holmes
Wyndham – unisex – anime: Patlabor: the Mobile Police TV
Y




Yachiyo's Dog – unisex – anime: Inugami-san to Nekoyama-san
Yahho – male – manga: Ookami Lover
Yamabuki – female – manga: Ginga Densetsu Riki
Yamato – male – "great harmony" (大和)
Yasha-ichi – male – anime: Hozuki's Coolheadedness
Yasu – unisex – "peace" (康)
Yasuko – female – "child of peace" (康子)
Yasuo – male – "man of peace" (康夫)
Yasushi – male – "peaceful" (靖)
Yegrinna – female – manga: Carnivorous Princess Yegrinna
Yeun-Sul – male – manga: Carnivorous Princess Yegrinna
Yoko – female – "child of sunlight" (陽子)
Yomi – female – anime: Machine-Doll wa Kizutsukanai
Yonakuni-san – unisex – anime:anime: maria Holic
Yoichi – male – "sunshine, positive first (son)" (陽一)
Yori – male – "trust" (頼)
Yoshi – unisex- "lucky / righteous" (吉 / 義)
Yoshie – female – "beautiful stream" (佳江)
Yoshiaki – male – "righteousness shining" (義昭)
Yoshikazu – male – "good peace, Japan" (良和)




Yoshiko – female – "child of goodness" (良子)
Yoshinori – male – "excellent model" (佳範)
Yoshio – male – "joyful life" (吉生)
Yoshiro – male – "righteous son" (義郎)
Yoshito – male – "ceremonial, correct person" (儀人)
Yoshiyuki – male – "righteous journey" (義行)
Youta – male – "great sunlight" (陽太)
Yua – female – "binding love" (結愛)
Yui – female – "bind clothing " (結衣)
Yuichi – male – "heroic first (son)" (雄一)
Yuji – male – "heroic second (son)" (雄二)
Yuina – female – "bind together" (結奈)
Yuka – female – "gentle flower" (優花)
Yukari – female – "beautiful pear tree" (佳梨)
Yuki – unisex – "happiness / snow" (幸 / 雪) – manga: Ginga Densetsu: Anju to Jiroumaru
Yukiko – female – "child of snow / child of happiness" (幸子 / 雪子)
Yukio – male – "blessed hero" (幸雄)
Yuko – female – "gentle child" (優子)
Yumi – female – "reason beautiful" (由美)
Yumiko – female – "reason beautiful child" (由美子)
Yuri – female – "lily" (百合)
Yuriko – female – "lily child" (百合子)
Yutaka – male – "bountiful, rich" (豊)
Yuu – unisex – "gentle" (優)




Yuudai – male – "great hero" (雄大)
Yuuki – unisex – "gentle, superior hope" (優希)
Yuuma – male – "gentle, superior truth" (優真)
Yuuna – female – "gentle" (優奈)
Yuuta – male – "great bravery" (勇太)
Yuuto – male – "gentle person" (悠人)
Yuuzou – male – manga: Koko ni Aru, Kimi no Oto
Yuzuki – female – "gentle moon" (優月)
Z
Zach – male – anime: Ginga e Kickoff!!
Zeke – male – anime: Highschool of the Dead
Zion – male – manga: Ginga Densetsu Weed Gaiden
Zushioumaru Sumida – unisex – anime: Dorei-ku The Animation
Related Searches:
dog names,
girl dog names,
boy dog names,
female dog names,
male dog names,
unique dog names,
cute dog names,
girl puppy names,
puppy names,
cute girl dog names,
japanese dog,
unique female dog names,
boy puppy names,
good dog names,
best dog names,
cool dog names,
unique dog names male,
cute boy dog names,
unique girl dog names,
cute puppy names,
funny dog names,
unique boy dog names,
female puppy names,
popular dog names,
good girl dog names,
good boy dog names,
cute female dog names,
best male dog names,
unique puppy names,
best female dog names,
small dog names,
top dog names,
cute male dog names,
Japanese dog names,
dog names in Japanese,
dog names from movies,
Japanese dog names,
cute Japanese dog names,
Japanese dog name kita,
Japanese dog names and meanings,
popular Japanese dog names,
female Japanese dog names,
male Japanese dog names,
cool Japanese dog names,
famous Japanese dog names,
good Japanese dog names,
anime dog names,
anime dog names female,
anime dog names and meanings
anime inspired dog names
anime related dog names
anime themed dog names
top anime dog names
anime based dog names
list of anime dog names