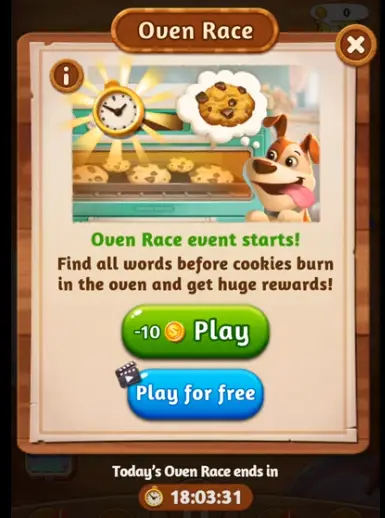 Welcome to Word Cookies Oven Race Answers!
Here come some tasty Word Cookies Oven Race hot out of the oven in 2023! Take a bite carefully it is hot! This Word Cookies challenge is addition to Bake Off that runs on weekends only.
If you have played Word Cookies already you know that is an addictive cross between all the word games you love! If you have not played this game yet, give it a try.
In this race, you will be presented with a set of letters and must find as many words as possible using those letters before the time runs out. The faster they can find words, the higher their score will be.
It's a fun and challenging way to test your vocabulary and speed in finding words!
There are so many word exciting challenges that you will soon be obsessed with testing of your spelling and vocabulary knowledge and limits.
Let us help you with Word Cookies Oven Race. Below find accurate Word Cookies Oven Race Answers for you to check when you ate stuck but want to move on!
You can download Word Cookies from
Word Cookies Oven Race August 1 2023
Are, Bar, Ear, Era
Bake, Bare, Bark, Beak, Bear, Kerb, Rake
Baker, Brake, Break
Click Here To Watch August 1 Walkthrough Video
Word Cookies Oven Race August 2 2023
Pet, Put, Pus, Set, Sue, Sup, Ups, Use, Put
Pest, Pets, Puts, Step
Upset
Click Here To Watch August 2 Walkthrough Video
Word Cookies Oven Race August 3 2023
Are, Ear, Era, Had, Her, Red
Dare, Dear, Hard, Hare, Head, Hear, Herd, Read
Hared, Heard
Click Here To Watch August 3 Walkthrough Video
Word Cookies Oven Race August 4 2023
New, Sew, Sin, Win
News, Sine, Wine, Wins, Wise
Sinew, Swine, Wines
Click Here To Watch August 4 Walkthrough Video
Word Cookies Oven Race August 14 2023
And, Den, End, Sad, Sea
Dean, Dens, Ends, Sand, Sane, Send
Deans, Sedan
Click Here To Watch August 14 Walkthrough Video
Word Cookies Oven Race August 15 2023
Opt, Pot, Rot, Sop, Top
Opts, Port, Post, Pots, Pros, Rots, Sort, Spot, Stop, Tops
Ports, Sport
Click Here To Watch August 15 Walkthrough Video
Word Cookies Oven Race August 16 2023
Ale, All, Ape, Lap, Pal, Pea
Leap, Pale, Pall, Peal, Plea
Lapel
Click Here To Watch August 16 Walkthrough Video
Word Cookies Oven Race August 17 2023
Air, Are, Ear, Era, Ire, Sea, Sir
Airs, Ears, Eras, Rise, Sear, Sire
Arise, Raise
Click Here To Watch August 17 Walkthrough Video
Word Cookies Oven Race August 18 2023
Bed, Bet, Bud, But, Dub, Due, Tub
Debt, Duet, Tube
Debut
Click Here To Watch August 18 Walkthrough Video
Word Cookies Oven Race August 28 2023
Bad, Bed, Dab, Sad, Sea
Bade, Base, Bead, Beds, Dabs
Based, Beads
Click Here To Watch August 28 Walkthrough Video
Word Cookies Oven Race August 29 2023
Die, Ire, Red, Rid, Tie
Diet, Dire, Dirt, Edit, Ride, Rite, Tide, Tied, Tier, Tire
Tired, Tried
Click Here To Watch August 29 Walkthrough Video
Word Cookies Oven Race August 30 2023
Are, Ark, Arm, Ear, Era, Mar, Ram
Make, Mare, Mark, Rake, ream
Maker
Click Here To Watch August 30 Walkthrough Video
Word Cookies Oven Race August 31 2023
Per, Roe, Sop, Ore
Ores, Pore, Pose, Pros, Rope, Rose, Sore
Pores, Prose, Ropes, Spore
Click Here To Watch August 31 Walkthrough Video
Word Cookies Oven Race September 1 2023
Ire, Net, Nit, Ten, Tie, Tin
Rein, Rent, Rite, Tier, Tire
Inert,
Click Here To Watch September 1 Walkthrough Video
Word Cookies Oven Race September 11 2023
Die, Ire, Red, Rid, Vie
Dire, Dive, Ride, Vied
Diver, Drive
Click Here To Watch September 11 Walkthrough Video
Word Cookies Oven Race September 12 2023
Ale, Lab, Sea
Able, Ales, Bale, Base, Labs, Sale, Seal, Slab
Bales, Blase, Sable
Click Here To Watch September 12 Walkthrough Video
Word Cookies Oven Race September 13 2023
Die, Ice, Ire, Red, Rid
Dice, Dire, Iced, Rice, Ride
Cider, Cried
Click Here To Watch September 13 Walkthrough Video
Word Cookies Oven Race September 14 2023
Age, Are, Ear, Era, Erg, Nag, Rag, Ran
Earn, Gear, Near, Rage, Rang
Anger, Range
Click Here To Watch September 14 Walkthrough Video
Word Cookies Oven Race September 15 2023
Lid, Oil, Old, Sod
Lido, Idol, Lids, Oils, Silo, Soil, Sold
Idols, Solid
Click Here To Watch September 15 Walkthrough Video
Word Cookies Oven Race May 25 2023
Ace, Act, Ate, Cat, Eat, Hat, Tea, The
Ache, Chat, Each, Hate, Heat
Cheat, Teach
Click Here To Watch May 25 Walkthrough Video
Word Cookies Oven Race May 26 2023
Doe, Her, Hoe, Ode, Ore, Red, Rod, Roe
Herd, Hero, Rode
Horde
Click Here To Watch May 26 Walkthrough Video
Word Cookies Oven Race June 5 2023

Age, Are, Ear, Era, Rag, Rue, Rug, Erg
Gear, Rage, Urea, Urge
Argue, Auger
Click Here To Watch June 5 Walkthrough Video
Word Cookies Oven Race June 6 2023

Lot, Out
Lost, Lots, Oust, Outs, Slot, Soul
Lotus
Click Here To Watch June 6 Walkthrough Video
Word Cookies Oven Race June 7 2023
Ape, Elm, Lap, Map, Pal, Pea, Ale
Lamp, Leap, Male, Meal, Pale, Palm, Peal, Plea
Ample, Maple
Click Here To Watch June 7 Walkthrough Video
Word Cookies Oven Race June 8 2023
Ash, Gas, Has, Nag, Sag
Gash, Hang, Nags, Sang, Snag
Gnash, Hangs
Click Here To Watch June 8 Walkthrough Video
Word Cookies Oven Race June 9 2023
Doe, Led, Ode, Ore, Red, Rod, Roe, Old
Dole, Lord, Lore, Rode, Role
Older
Click Here To Watch June 9 Walkthrough Video
Word Cookies Oven Race June 19 2023
Elm, Lie
Elms, Isle, Lies, Lime, Mile, Slim
Limes, Miles, Slime, Smile
Click Here To Watch June 19 Walkthrough Video
Word Cookies Oven Race June 20 2023
Aid, Air, Bad, Bar, Bid, Dab, Rib, Rid
Arid, Bard, Drab, Raid, Bird
Braid, Rabid
Click Here To Watch June 20 Walkthrough Video
Word Cookies Oven Race June 21 2023
Its, Set, Sit, Six, Tie
Exit, Site, Ties
Exist, Exits
Click Here To Watch June 21 Walkthrough Video
Word Cookies Oven Race June 22 2023

Age, Ant, Ate, Eat, Get, Nag, Net, Tag, Tan, Tea, Ten
Gate, Gnat, Neat, Tang
Agent
Click Here To Watch June 22 Walkthrough Video
Word Cookies Oven Race June 23 2023
Ore, Owe, Per, Pew, Roe, Row, Woe
Pore, Prow, Rope, Wore
Power
Click Here To Watch June 27 Walkthrough Video
Word Cookies Oven Race July 3 2023
See, Set, Tee
Rest, Seer, Tees, Tree
Ester, Reset, Steer, Terse, Trees
Click Here To Watch July 3 Walkthrough Video
Word Cookies Oven Race July 4 2023
Aid, Die, Lad, Led, Lid, Lie, Ale
Aide, Deal, Dial, Idea, Idle, Laid, Lead, Lied
Ideal
Click Here To Watch July 4 Walkthrough Video
Word Cookies Oven Race July 5 2023
Nor, Now, Row, Won, Own
Gown, Grow, Worn
Grown, Wrong
Click Here To Watch July 5 Walkthrough Video
Word Cookies Oven Race July 6 2023
Net, See, Set, Tee, Ten
Nest, Nets, Seen, Sent, Teen, Tees
Teens, Tense
Click Here To Watch July 6 Walkthrough Video
Word Cookies Oven Race July 7 2023
Our, Out, Rot, Rut, Tot
Rout, Tort, Tour, Tout, Trot
Trout, Tutor
Click Here To Watch July 7 Walkthrough Video
Word Cookies Oven Race July 17 2023
Fir, Fit, Ifs, Its, Sir, Sit
Firs, Fist, Fits, Rift, Sift, Stir
First, Rifts
Click Here To Watch July 17 Walkthrough Video
Word Cookies Oven Race July 18 2023
Age, Ale, Gel, Lag, Leg
Gale, Gaze, Laze, Zeal
Glaze
Click Here To Watch July 18 Walkthrough Video
Word Cookies Oven Race July 19 2023
Ore, Owe, Roe, Row, Sew, Sow, Woe
Ores, Woes, Owes, Rose, Rows, Sore, Wore
Swore, Worse
Click Here To Watch July 19 Walkthrough Video
Word Cookies Oven Race July 20 2023
Age, Ale, Gel, Lag, Leg, Nag
Gale, Lane, Lean
Angel, Angle, Glean
Click Here To Watch July 20 Walkthrough Video
Word Cookies Oven Race July 21 2023
Cue, Cur, Rue, Sue, Use
Cues, Cure, Curs, Rues, Ruse, Sure, User
Cures, Curse
Click Here To Watch July 21 Walkthrough Video
Word Cookies Oven Race July 31 2023
Den, See, End
Dens, Ends, Need, Seed, Seen, Send
Dense, Needs
Click Here To Watch July 31 Walkthrough Video
Related Article:
Best Word Cookies Bake Off Answers (100%)
Related Searches:
word cookies oven race,
oven race word cookies,
word cookies oven race answers,

oven race word cookies answers,

oven race word cookies today,

word cookies oven race answers today,