Welcome to Word Cookies Bake Off Challenge Answers!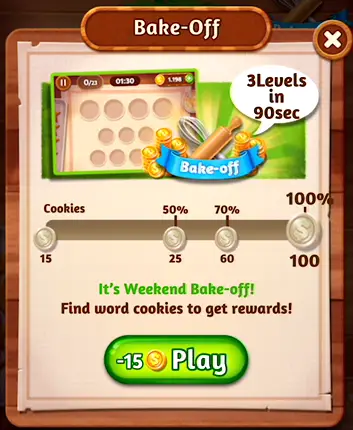 After recent update, Word Cookies got a Oven Race challenge that runs only on Fridays. It replaced Bake off challenge. Your goal is to find all words in 60 seconds. Hmm…think fast – act fast! You will need to spend 15 coins to participate. You will gain safely your rewards with Word Cookies Oven Race answers. Let's do it!
You can download Word Cookies from
November 26 & November 27 2022
Ape, Axe, Pea, Apex,
Net, Set, Ten, Nest, Nets, Sent, Tens
Boo, Hob, Hot, Too, Boot, Both, Hoot, Booth
Walkthrough Video
December 3 & December 4 2022

Met, Tee, Meet, Teem
Aid, Aim, Dam, Dim, Mad, Amid, Maid
Eve, Rev, Even, Ever, Neve, Veer, Never, Nerve
Walkthrough Video
December 10 & December 11 2022
Ale, Lea, Sea, Ales, Sale, Seal
Ask, Ken, Sea, Kens, Sake, Sane, Sank, Sneak, Snake
Act, Cat, Hat, Hay, Thy, Chat, Tact, That, Yacht, Chatty
Walkthrough Video
December 17 & December 18 2022
Her, She, Hers, Serf, Fresh
Saw, Say, Was, Way, Yaw, Sway, Yaws, Ways
Hoe, Ore, Roe, Coke, Core, Cork, Echo, Hero, Hock, Rock, Choke, Chore, Ochre, Choker
Walkthrough Video
December 24 & December 25 2022
Hew, Wee, Here, Were, Where
Arm, Mar, Maw, Ram, Raw, War, Warm
Den, Did, Die, Din, End, Deed, Died, Dine, Need, Dined, Ended, Denied, Indeed
Walkthrough Video
Word cookies Bake off answers – December 31 2022 – Happy New Year!

New, Sew, News, Sewn
Are, Ear, Era, Red, Dare, Dear, Read
Ash, Ask, Has, Sea, She, Shake
Walkthrough Video
Word cookies Bake off answers January 7 & January 8 2023

And, Bad, Ban, Dab, Band
Net, Pen, Pet, Ten, Pent
Our, Pro, Pug, Rug, Pour, Group
Walkthrough Video
Word cookies Bake off answers January 14 & January 15 2023
Bid, Rib, Rid, Bird
Arm, Mar, Maw, Ram, Raw, War, Warm
Set, She, The, Etch, Sect, Chest
Walkthrough Video
Word cookies Bake off answers January 21 & January 22 2023
Dew, Dye, Wed, Yew, Dewy
By, Us, Bus, Buy, Sub, Buys, Busy
Her, Hew, Here, Were, Where
Walkthrough Video
Word cookies Bake off answers January 28 & January 29 2023
Low, Owl, Flow, Fowl, Wolf
Man, Men, Amen, Mane, Mean, Name
Gap, Par, Rag, Rap, Harp, Graph
Walkthrough Video
Word cookies Bake off answers February 4 & February 5 2023
Lop, Polo, Pool, Loop
Ore, Roe, Ores, Sore, Rose
See, Set, Sew, Tee, Wet, Stew, Tees, West, Wets, Sweet
Walkthrough Video
Word cookies Bake off answers February 11 & February 12 2023
Sat, Salt, Slat, Last
Net, New, Ten, Wet, Newt, Went
Lay, Oar, Ray, Oral, Royal
Walkthrough Video
Word cookies Bake off answers February 18 & February 19 2023
Ago, Lag, Log, Goal
Are, Ear, Era, Ran, Earn, Near
Bed, Den, End, Led, Bend, Bled, Lend, Blend
Walkthrough Video
Word cookies Bake off answers February 25 & February 26 2023
Lie, Vie, Evil, Veil, Vile, Live
Awe, Dew, Wad, Wed, Awed, Wade
Cod, Cow, Rod, Row, Cord, Crow, Word, Crowd
Click Here To Watch Walkthrough Video
Word cookies Bake off answers March 4 & March 5 2023
Lap, Nap, Pal, Pan, Plan
Dog, God, Log, Old, Gold
Con, Cot, Hot, Not, Ton, Notch
Click Here To Watch March 4 Walkthrough Video
Word cookies Bake off answers March 11 & March 12 2023
Hem, She, Hems, Mesh
Met, Tie, Emit, Mite, Time, Item
Nut, Run, Rut, Tun, Urn, Turn, Trunk
Click Here To Watch March 11 Walkthrough Video
Word cookies Bake off answers March 18 & March 19 2023
Arc, Bar, Bra, Cab, Car, Crab
Aid, Aim, Dam, Dim, Mad, Amid, Maid
Ice, Tic, Tie, Wet, Wit, Cite, Twice
Click Here To Watch March 18 Walkthrough Video
Word cookies Bake off answers March 25 & March 26 2023
Day, Dry, Ray, Dray, Yard
Gas, Rag, Sag, Rags, Sags, Grass
Air, Art, Bar, Bat, Bib, Bit, Bra, Rat, Rib, Tab, Tar, Bait, Brat, Rabbit
Click Here To Watch March 25 Walkthrough Video
Word cookies Bake off answers April 1 & April 2 2023
Hit, Tic, Chit, Itch
Nap, Nip, Pan, Pin, Pain
Ego, Gel, Leg, Log, Love, Glove
Click Here To Watch April 1 Walkthrough Video
October 29 & October 30 2022
Day, Lad, Lay, Lady
Ink, Kin, Nip, Pin, Pink
Lap, Lop, Oar, Pal, Par, Pro, Rap, Opal, Oral, Polar
Walkthrough Video:
November 5 & November 6 2022
Me, Elm, Lie, Mile, Lime
In, Nip, Pen, Pie, Pin, Pine
Arc, Car, Cry, Ray, Racy, Carry
Walkthrough Video
November 12 & November 13 2022
Ion, Nil, Oil, Loin, Lion
Ace, Ape, Cap, Pea, Cape, Pace
Arm, Dam, Mad, Mar, Rad, Ram, Drama
Walkthrough Video
November 19 & November 20 2022
Con, Ion, Icon, Coin
Ego, Erg, Ore, Roe, Ergo, Goer, Gore, Ogre
Ale, Elf, Able, Bale, Flea, Leaf, Fable
Walkthrough Video
Go Back To Ultimate Word Cookies Answers Guide
Related Searches:
word cookies bake off answers
word cookies bake off cheats
word cookies bake off
bake off word cookies
bake off word cookies answer
word cookies bake off today
word cookies bake off answers
word cookies bake off
word cookies bake off cheats
word cookies bake-off
word cookies bake off this weekend
word cookies bake off answers today
word cookies weekend bake-off answers
word cookies weekend bake off