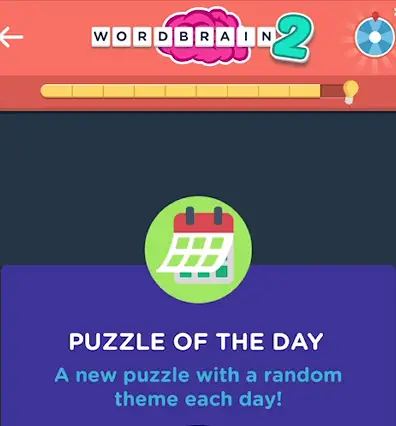 Welcome to Wordbrain 2 Daily Puzzle Answers!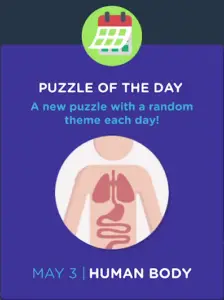 You are here because you want to know the answer for Wordbrain 2 Daily Challenge, isn't? Then you are at the right place at the right time. 
Everyday we are here to add more answers. And if we are not fast enough, please come back after a while because we may have a time difference or simply slept too much. 
Wordbrain 2 Daily Puzzle has different theme for each day. It makes more interesting to play and give you a clue what area an answer belongs to. 
Below you may find links to download main game:
May 1 2022 (Circus)
Balancing
May 2 2022 (Instruments)
Castanets
May 3 2022 (Human Body)
Nail, Teeth
May 4 2022 (Literature)

Biography
May 5 2022 (Cosmetics)
Face, Cream
May 7 2022 (Music)
Melody, Pop
May 8 2022 (Recycling)
Nature, Oil
May 9 2022 (Coffee)
Cream, Java
May 10 2022 (Round Things)
Ball, Pearl
May 11 2022 (Transport)
Bike, Coach
May 12 2022 (In The Office)
Colleague
May 13 2022 (Farming & Agriculture)
Vegetable
May 14 2022 (Herbs & Spices)
Spearmint
May 15 2022 (Newspapers)
Paparazzi
May 16 2022 (Crafts)
Clay, Paper
May 17 2022 (Visual Arts)
Marble, Pen
May 18 2022 (Space)
Venus, Mars
May 20 2022 (Weapons)
Mine, Sling
May 21 2022 (Fruit & Berries)
Blueberry
May 22 2022 (Fishing)
Canal, Pike
May 23 2022 (School)
Principal
Related Searches:
wordbrain 2 daily puzzle,
wordbrain 2 daily challenge,
wordbrain 2 daily,
wordbrain 2 daily challenge answers,

wordbrain 2 daily puzzle answers for today,

word brain 2 daily answers game,

wordbrain 2 daily puzzle answers,

word brain 2 daily answers